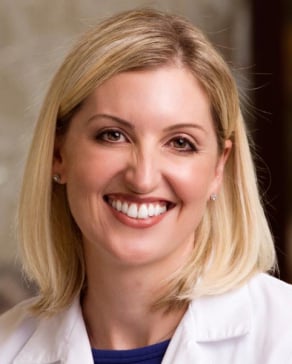 Dr. Potter attended the University of Florida for undergraduate studies in Microbiology and Cell Science and received her Master's Degree in Epidemiology from the University of South Florida. Dr Potter then continued her education by earning her Doctorate in Medical Dentistry from the University of Florida (2007) and was honored as the most ethical dentist by her faculty and classmates during that time.
Dr. Potter promotes and provides gentle, compassionate dental care for you and your family. Her practice mantra is to treat every patient as if they are her friends and family. She has a strong community spirit and likes to participate in community events including the American Heart Walk, March of Dimes, and Race for the Cure.
Dr. Potter was born and raised in the United Kingdom and moved to Tampa, Florida with her family where she completed her high school education. While attending the University of Florida for her undergraduate degree, she met her husband, Brian, a Gainesville native. They married in 2007 and proudly had their son, Elliott, in 2010.
In her spare time, Dr. Potter delights in time with her family and friends. She enjoys reading with her Gator Girls Book club, doing cake decorating, dance (Zumba), singing, playing piano, and is a proud alumni of the Gator Nation.
Book Online Now
Complete the form below to book your appointment today.
CareCredit
CareCredit is a healthcare credit card designed for your health and wellness needs. Pay for the costs of many treatments and procedures through convenient monthly payments.
Our patients leave smiling


My daughter and I just had our first appointment at Tioga Dental and we were both really impressed. Everyone was very nice and professional. We have found our permanent dentists here in Gainesville!

Loren I.



I've been to several other offices in town – this is, by far, the best. Dr. Brush is as personable as she is knowledgeable.

Jon M.



very nice and caring

Becky E.



Everyone in my family is a patient here, and over the years they have grown with us. From cleanings when my kids were young, to orthodontia and more complex issues, they've been there for all of it. The staff is wonderful- everyone from the front desk to the dentists (and orthodontists) who see our family. They are very patient with me- I have never LOVED going to the dentist- but they calm…

Debbie S.



Great Service!

Markus S.



Everyone is so kind and helpful!

Haylee H.



I have been going to Dr. Brush ever since she was at Willow Walk Family Dentistry and I have nothing but good things to say about her. My whole family sees her and she has treated us very well! I always know I'll receive incredible, top-notch care with everyone at Tioga Dental and the office is really relaxing. We are lucky to have her in Gainesville!

Alexandria B.



Very professional and friendly. All staff are extremely knowledgeable and efficient, and doctors are top-notch.

Debbie C.



Excellent service in this office. Appointments run on time, the facilities are clean and bright, the hygienist I had was very kind and patient, and the doctor is down-to-earth and approachable. When I mentioned that an extraction that another dentist had done was very painful, the doctor said "I don't want anything to hurt you. We will make sure it's handled well." I got an…

Ellen J.



I switched to these folks from Gentle Dental, what a difference. Tioga Dental is terrific!

Randy F.



This was my first appointment with Tioga Dental and I was very impressed with there friendliness and kind service.

Hugh G.



Went in for cleaning. Was in the chair quickly from appt time. Very gentle technician. Was over before I knew it. Very professional

Dru H.



All the staff is friendly and professional. Dr. Sara Potter is thorough and has a wonderful bedside manner. Dental hygienist, Casey S. is also very thorough. I've already highly recommended this office and to request both Dr. Potter and Casey S. I will return.

Krystal H.



Tioga Dental makes going to the dentist actually a pleasant experience.

Bobby D.



My teeth are clean and healthy because of these guys

Jillian H.



Always a good experience. Always friendly staff. Always a great cleaning or exam. I have been going to Tioga Dental for 18 years.

Carrie G.



5+ star experience! The staff was super friendly and helpful and the office is amazing. Highly recommended!

Arin M.



Tioga Dental and Orthodontics go above and beyond to make you feel welcome. Their staff is always professional and courteous. I highly recommend them to anyone with any dental needs.

Larry G.



I love Tioga Dental. They have the most professional and friendly staff. All the Doctors are awesome! Best dental office in Gainesville! I highly recommend them! Linda Goolsby

Linda G.



Great staff and very comfortable visit (for a dentist).

Cory T.



Literally the best dental office and staff I have ever come into contact with in my years.

Carter K.



Amazing facilities and wonderful staff. They got us in very quickly for urgent needs for my wife and routine checkups for myself. Dr. Norris was very personable as well as his partner (she cared for my wife). We have our family dentist!

Parker L.



Very nice staff, great dental care, highly recommend.

Samantha G.



Best dentist in Gainesville! I really thought all my prior dentists were good until I started coming here, within a couple of visits I could tell Dr. Brush and all of the Tioga dental employees operate with a high level of skill and precision. They also use the latest and greatest technologies to help you keep your teeth nice and cavity free! I've never had to wait more than 5 minutes either…

Chris G.



Very good people and service here. I've been coming here since November 2013 and have not once been disappointed. Recommend this for sure.

Corbin P.



Everyone is nice, helpful, and excellent at their jobs. They all went above and beyond to make our visit smooth and thorough. Thank you

Kel A.



Very friendly staff! Conscientious. Do everything possible to make visit a pleasant experience.

Denise W.



Friendly professional staff that keeps you informed concerning your oral health. It is my dental destination.

Jack S.



Great atmosphere, great dentist, great hygienist. A wonderful experience for my first time to the dentist in quite some years…Dr Potter is the bomb! :)

James M.



Friendly staff. Staff very friendly among each other. Great customer service and care. High professionalism.

Mark L.



Hate going to the dentist, but Tioga Dental makes it bearable. It's a spa like atmosphere and everyone is very friendly!

Jody A.



I had a great experience at Tioga dental. Everything went smoothly with my appointment. I didn't have to wait at all. Staff were very nice and professional. My hygenist (I am forgetting her name) did an amazing and thorough job with regular cleaning. Dr. Brush was really sweet and great to work with! Highly recommend this clinic.

Rakshaa M.



Walked in with an emergency situation first think Friday morning. They had a full slate of patients but bent over backward to work me in. Not only that but when I needed specialist help that they were unable to handle that day they arranged for me to be worked in elsewhere. Staff was more than friendly to say the least. If I could give more than 5 stars I would.

Kirk H.



Such a great staff and great place

Matthew K.



Awesome professionals with outstanding customer service and care!

B B.



Professional, clean environment and they care about your comfort. They have addressed issues I have that were not identified by other dentists. I just Had dental implant surgery with good experience and follow-up thus far.

Becky W.



Staff are always so cheerful, patient and understanding. They answer all your questions.

John-Chari H.



I hadn't been to the dentist in years, so I was super nervous, but I knew I needed to go. Everyone was so nice and there was no judgement – just honesty! They quickly set me up with a treatment plan and when I went back in for my cleaning, it was painless! I highly recommend Tioga Dental & Orthodontics!

Abigail M.



Our Orthodontist is in Tampa and we had an emergency with Michael's braces. The fine people at Tioga helped us out. We are very grateful! Thank you!

Metal M.



This is the best dentist my family has ever visited. My five rating emcompasses cleanliness, modern facility, expertise,and each member of the staff obviously takes pride in ther work.Joline has excellent communication skills when working with my daughter who actually looks forward to going to the dentist. Thank you Dr. Brush

Dan P.



My experience with this firm from beginning to end was "great" with "gravy on top" sprinkled with some "awesome sauce".

Robert M.



Fantastic place, they really took care of me and the issues i was having with my dental health. Everyone there works hard and is super happy to help with any issues.

Vito R.



Nice environment…caring staff…

Lisa T.



Quality work, friendly staff. I recommend.

Steve B.



Tioga Dental is a very professional and comprehensive dental practice, from general, to orthodontics, periodontics and oral surgery. Every single one of staff members go above and beyond to help their patients with genuine concern and care. The sweet ladies at reception, go out of their way to accommodate every patient according to their needs for schedule and insurance. The girls at checkout are…

Sarah S.



While on vacation. I needed oral surgery and was impressed by the care I received . Staff was professional and the offices spotless. My surgery went well and would highly recommend this service. My thanks to everyone!?

Linda L.



Great environment, loved the interaction with the orthodontist she was sweet, knowledgeable and understanding. What more can you ask for in a provider!

Maria C.



Always a pleasant experience coming in for a checkup and cleaning. Everyone is super friendly and caring and I would recommend any of their services without reservation!

Paige H.



I had a great experience with tioga. I am glad they have everything in one place.

Brandi S.



Nice facility, knowledgeable staff, and a bunch of fun. My wife and I enjoyed our first visit there. And it's close to where we live. Thumbs up!

Les A.



Good experience. Explained everything and made sure I was comfortable

Jimmy C.



Dr. Potter is the best! Also, the girls who take care of you and perform the cleanings are always very kind and attentive. The atmosphere is top knotch for a dentists office too! I recommend that any of my friends or family get their dental work done here!

Anna S.