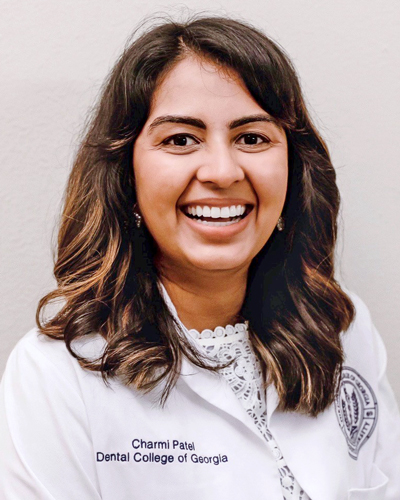 Dr. Charmi Patel is a skilled dentist with a focus in general and cosmetic dentistry, restorative dentistry, like fillings and crowns, implant restorations, full and partial dentures, and Invisalign. She believes what makes an outstanding dental provider is not just great outcomes, but rather two important characteristics – treating the patients nicely for their comfort and managing difficult circumstances when it comes to their smile. She appreciates the intricacies that mesh all the different dental specialties in order to provide a unified, first-class dental experience. She makes sure to simply care for her patients and give them the best treatment they deserve. This motivates her to strive for perfection for each of her patient's dental journey.
Dr. Patel received her undergraduate degree from the University of Georgia. She then achieved her Doctor of Dental Medicine degree from The Dental College of Georgia. She has leadership experience like being part of the AU Student Council and serving as the Vice President of her class, which required crucial communication with faculty to implement changes in the curriculum. She has volunteer experience like participating at a COVID-19 vaccine clinic by helping facilitate the registration process and maintain patient flow and being part of Della 4 Dentistry where she provided free dental care to veterans at the Veterans Hospital. She also has experience in being a research assistant for the Department of Restorative Sciences and the JLM Lab at the University of Georgia. She is an active member of the Georgia Dental Association and Florida Dental Association.
Outside of the office, Dr. Patel enjoys travel photography, cooking, playing tennis, spending time with family and friends, and cuddling with her dog, Yoda. She is fluent in English, Gujarati, and Hindi.