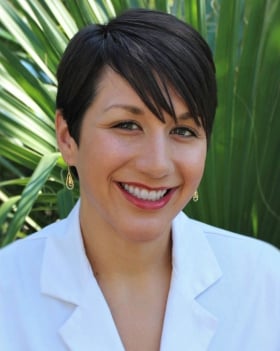 Dr. Lindsay VonMoss grew up in rural Pennsylvania but moved to Gainesville as a teenager. She fell in love with our community and decided to stay here to raise her own family. Dr. VonMoss graduated from the University of Florida with a Bachelor of Science in Food Science and Human Nutrition. Following her undergraduate degree, she continued her education at the University of Florida receiving a Doctorate in Dental Medicine (DMD), where she graduated Magna Cum Laude. She is a designated Invisalign® Provider and Invisalign® Teen Provider.
Dr. VonMoss realized her love for orthodontics while in dental school and decided to specialize. She received her Master of Science degree and Certificate in Orthodontics also from UF. During her residency, she was trained in the latest technologies including digital imaging, temporary anchorage devices (TADs), and Invisalign. Throughout her educational career Dr. VonMoss was involved in research. This experience has led her to focus on evidence-based treatments for her patients.
Dr. VonMoss began working in the dental field as a teenager and she soon could see how a healthy and beautiful smile could influence a patient's life and outlook. She loves helping patients attain that smile and getting to know them throughout the process. She prioritizes her patients' needs and strives to be gentle, respectful, and caring.
Outside of the office, Dr. VonMoss loves spending time with her husband Josh and two small children. They love being outdoors enjoying the beautiful Florida weather as a family, hiking, biking, or just playing at the park. In her free time she especially enjoys baking yummy treats, reading a good book, or watching Netflix.
Dr. VonMoss is dedicated to providing high quality orthodontic care to her patients and is accepting new patients today!