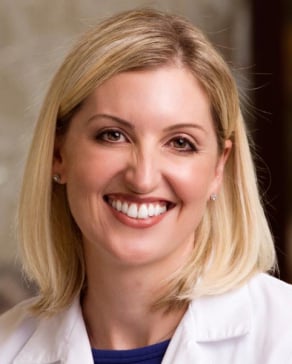 Dr. Potter attended the University of Florida for undergraduate studies in Microbiology and Cell Science and received her Master's Degree in Epidemiology from the University of South Florida. Dr Potter then continued her education by earning her Doctorate in Medical Dentistry from the University of Florida (2007) and was honored as the most ethical dentist by her faculty and classmates during that time.
Dr. Potter promotes and provides gentle, compassionate dental care for you and your family. Her practice mantra is to treat every patient as if they are her friends and family. She has a strong community spirit and likes to participate in community events including the American Heart Walk, March of Dimes, and Race for the Cure.
Dr. Potter was born and raised in the United Kingdom and moved to Tampa, Florida with her family where she completed her high school education. While attending the University of Florida for her undergraduate degree, she met her husband, Brian, a Gainesville native. They married in 2007 and proudly had their son, Elliott, in 2010.
In her spare time, Dr. Potter delights in time with her family and friends. She enjoys reading with her Gator Girls Book club, doing cake decorating, dance (Zumba), singing, playing piano, and is a proud alumni of the Gator Nation.