Posted under:
General
Posted on: January 21, 2023
Why We're the Gainesville Dentist for You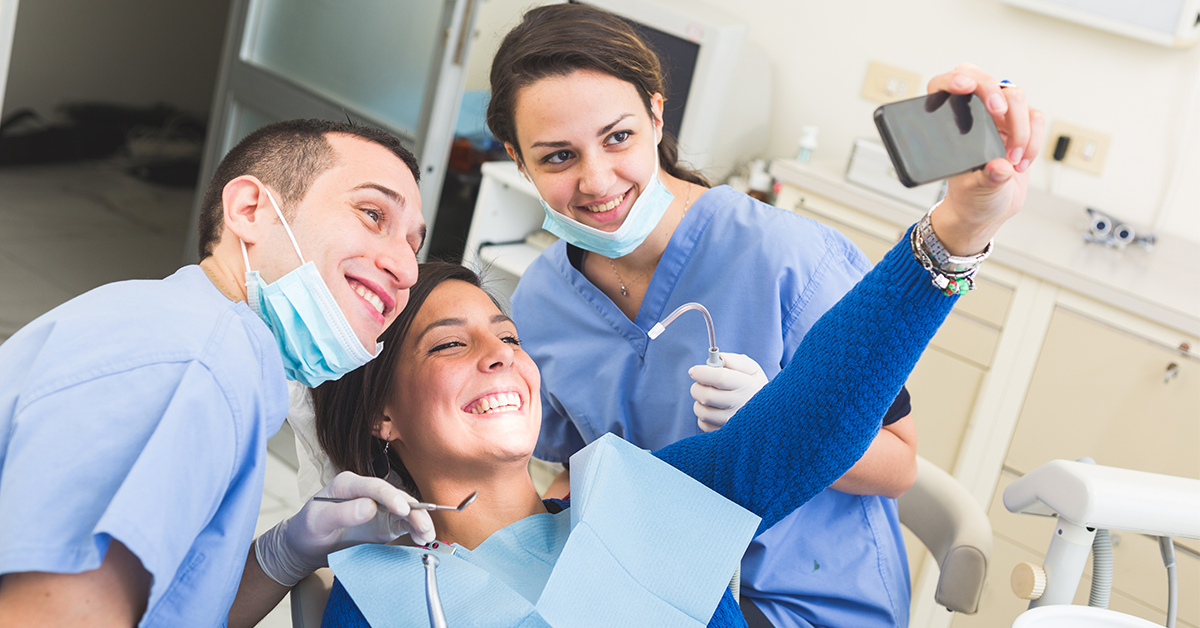 Whether you're new to the Gainesville area or you're simply dissatisfied with your current Gainesville dentist, you may be in search of a new dental office you can use. But, how do you find that dentist? As you think about the choices of dentists you have available to you in the area, consider the factors below for what makes a dentist worthy of caring for your teeth.
After you read through these factors, give our office a call to see how Tioga Dental & Orthodontics meets all your conditions of a dentist you can trust with your oral health.
Knowledge and Skills
You want a dentist who is highly trained in their craft. You want one who is extremely knowledgeable about dentistry. That starts with education and training and develops through experience. You want a dentist with the skills to apply their knowledge and training expertly that can only come through extensive experience and discipline.
Compassion
Everyone in the dentist's office you visit should always come from a place of care, concern and compassion. You can't teach empathy; that has to come from within. And, every member of our team, from your dentist to the dental assistants and hygienists to the administrative staff are naturally compassionate and empathetic people who desire nothing more than to make your dental experience a positive one.
This also extends to helping you deal with any dental anxiety you may experience, a common experience for many dental patients. Whether it's soothing music, taking more time to explain the tests and procedures taking place or providing mild sedation, our team is ready to help you feel as comfortable, calm and safe as possible in our care.
Long-term Relationships
Many of our patients at Tioga Dental & Orthodontics have been with us for years. That's because we take the time and care to develop long-term relationships with each of our patients, and we hope we can do the same with you.
As soon as you step into our reception area, you'll receive a warm and friendly greeting. After checking in, you'll enjoy a comfortable, inviting and relaxing waiting area, but don't get too comfortable–because our dentists are also prompt for their appointments. In the examination area, the entire dental team, from dental assistants to dental hygienists to the dentists themselves will show you kindness, courtesy and respect. They will explain to you the various procedures and the equipment they will use to perform them each step of the way. That way, you can feel safe and supported throughout every stage of your appointment.
Building long-term relationships also means to us that we contact you to remind you of upcoming appointments and check in with your after procedures to follow up and make sure your recovery is proceeding as expected. It means we stay on top of scheduling regular annual or semi-annual checkups and cleanings with you so you don't have to remember. It also means we make sure you understand the importance and best methods of practicing daily dental hygiene to prevent dental problems like gum disease or tooth decay.
Advanced Dental Technology
Dental technology is constantly changing. And, as it improves and advances, so too does the quality and ease of dental care. That's why we keep all our equipment current. Modern tools like digital X-rays that provide more data while using less radiation help us make dental appointments safer, faster and more comfortable for you. Dental lasers allow us to perform less-invasive procedures, which supports quicker healing with less pain afterward. We make the investment in updated dental technology so that you get the payoff.
Education
Education is a factor in good dentistry in two ways.
A good dentist educates his patients on proper oral care and the consequences of poor oral hygiene as well as about the conditions and issues a patient faces and the prognoses and treatments available.
A good dentist is also committed to constantly continuing their own education in order to stay on top of all the latest advances in dental technology. Not only does this empower your dentist to avail you of the best, most cutting-edge dental care available, but it also gives you the confidence that your Gainesville dentist is committed to excellence in serving your needs.
Atmosphere
The quality of the people is one of the most important factors in the quality of a dental office; another is the office atmosphere. The lobby, reception area, waiting room, exam rooms, operation rooms and every space in between should be clean, orderly and organized; everything should be properly disinfected and sterilized. At the same time, the office shouldn't feel sterile. It should be decorated and furnished warmly, invitingly and comfortingly. From the chairs in the waiting room to the dentist's chair, they should be soft and comfortable with pillows and blankets available if needed. Even the exam rooms should be decorated to feel less clinical and more homey.
It's a careful balance to create the right atmosphere in which our patients can feel comfortable and confident in their care, but we believe we've achieved it, and hopefully, when you visit us, you'll feel the same.
Affordability
At our dental office, we want you to know that you can trust us to respect your budget. That's why we aim to keep all our fees as low as possible. We also accept dental insurance from many providers, and we can help you devise a payment plan to help you cover any out-of-pocket costs by spreading them out over a period of time. That way, you never have to feel like you must choose between feeding yourself and taking care of your teeth.
For a dental office that fits all of these qualifications, reach out to us today. Make Tioga Dental & Orthodontics your new, trusted dental office in Gainesville.