Posted under:
General
Posted on: December 28, 2020
Invisalign: Frequently Asked Questions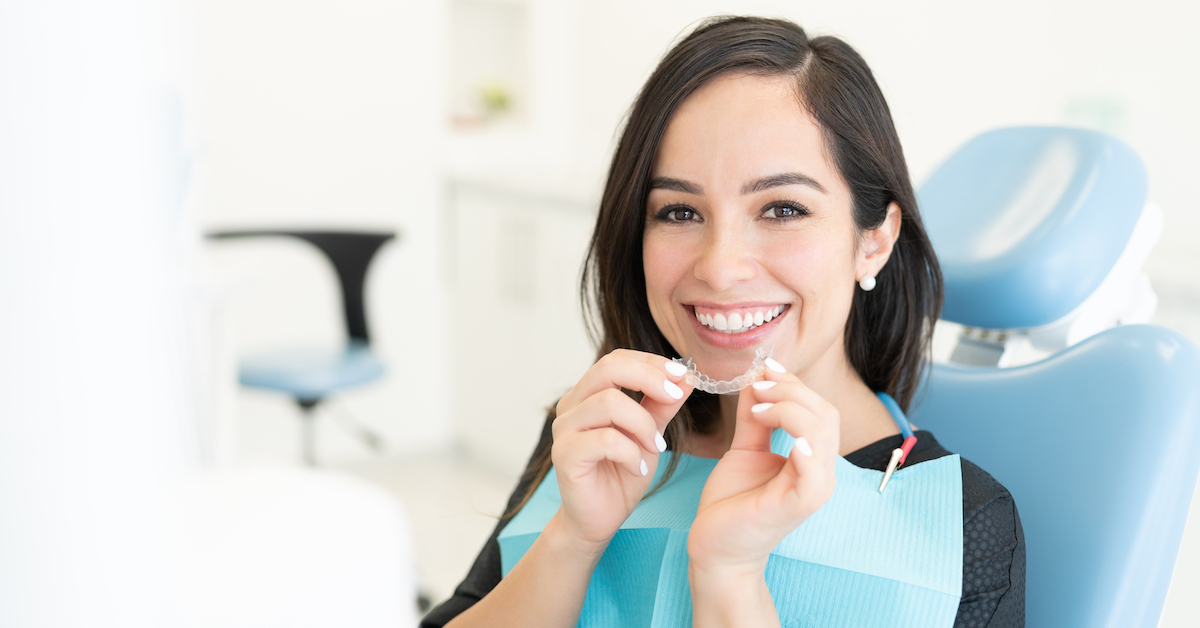 Are you reluctant to smile because of your misaligned and crowded teeth? If you feel that no matter how well you're dressed, you're just not well put together because of your poor teeth, then the Invisalign system of aligner trays may be the answer to your dilemma. Best of all, the Invisalign system is clear and virtually invisible, so no one will know that you're wearing them.
What Are Invisalign Braces?
The Invisalign system of aligner trays was developed as an alternative to the wire-and-bracket system of traditional metal braces. It was inspired by the whitening trays that dentists use and was the brainchild of some Stanford University students and alumni. Allegedly, the students wore the aligner trays during their sales presentation to prospective investors and didn't remove the trays until the completion of their sales pitch. The investors were sold on the concept, and the Invisalign system came into being.
Invisalign's aligner trays are made of SmartTrack, a new-age polymer that's FDA-approved and contains no BPA, BPS, latex, or gluten. The trays are designed to hug the teeth very snugly and gently move the teeth into proper alignment. Since they're custom-fit to the contours of your teeth and gums, they're very comfortable and very effective. Invisalign has transformed millions of smiles throughout the world in the three decades that the company has been in existence. The major appeal is their invisibility and the option to remove them for special occasions, unlike traditional wire-and-bracket metal braces.
What Are the Requirements for Getting Invisalign?
The Invisalign system is appropriate for most adults and older teens who have misaligned teeth but no other severe orthodontic issues. If you have severe malocclusion or other issues, more traditional approaches to teeth straightening may be better for you.
Usually, Invisalign isn't used for children and young teens because their teeth and gums are still forming and growing, so it's difficult to fabricate aligner trays for them. If you're considering the Invisalign system for yourself or your child, then ask yourself the following questions:
Do you still have any primary teeth? Adults and older teens usually have all of their permanent teeth fully erupted, so the trays will work well. Otherwise, it may not be possible to create comfortable trays that are also effective.
Will you adhere to your treatment regimen? Children and young teens may lack the necessary discipline to wear and care for their trays as they should, so another method might be more appropriate. Although the trays can be removed for special events, they need to be worn for 20 to 22 hours each day to be effective.
Does invisibility matter to you? If the invisibility and flexibility of the aligner trays aren't very important to you, then another type of device might work better. Your dentist will evaluate your situation and recommend the best type of appliance for you.
Based on the results of a dentist's examination of your teeth and gums, your Invisalign dentist or orthodontist will recommend the best system for your unique needs.
What Can I Expect During the Invisalign Procedure?
If you and your dentist have decided to proceed with the Invisalign system, then you should expect the following sequence of events, with only minor deviations. Your experience may vary slightly if you need other procedures, but you can generally expect the following:
We'll start by making a mold of your gums and teeth, this can usually be done digitally. We'll use the mold to fabricate your aligner trays, and since your trays are made to the contours of your gums and teeth, they should be very comfortable.
Every week or every other week, you'll receive a set of new aligner trays that will have a slightly different shape than the previous trays. This is the process that gradually and gently encourages your teeth to move into proper alignment.
With each change of the trays, you'll probably notice increased pressure for a day, but this is normal. It's due to the slightly different pressure applied by the new trays, and it will dissipate.
Every four to six weeks, you'll return to our office for a progress check, and we'll make any adjustments that may be necessary.
By the date of your first progress checkup, you should notice an improvement in your tooth alignment.
How Will Invisalign Make a Difference in My Lifestyle?
Since Invisalign isn't invasive, it shouldn't have a major impact on your lifestyle. However, there are a few habits that you might need to change, such as:
If you use any type of tobacco products, you'll need to suspend using them for the duration of your procedure. This applies to any tobacco product, whether you chew, dip, smoke, or vape. All types of tobacco products will stain your trays the same way they stain your teeth. This might be an ideal time to quit altogether since it's just one step further to permanently quitting when you've already quit for a year.
Don't chew gum while you're wearing your trays. If you absolutely must have a stick of gum, be sure to remove your trays first.
Don't eat or drink anything other than plain, unflavored water when your trays are in. Both the chewing process and the food that's eaten can damage your trays, so avoid eating or drinking if you're wearing your trays. Hot drinks can warp your trays, and food particles can become lodged underneath them. This will cause decay and cavities to form, which will interrupt your treatment.
Brush and floss religiously anytime you eat or drink and before you replace your trays. To avoid any bacterial residue, be sure to use an antibacterial mouthwash before you reinsert your trays.
What Happens at the Conclusion of My Invisalign Program?
When you've completed your Invisalign treatment, then your dentist or orthodontist will probably recommend that you wear a retainer for up to a year. The retainer is worn only at night, but it keeps your teeth in the new alignment, so it's important to wear it.
Can My Personal Dentist Provide Invisalign?
Invisalign aligner trays are only available through dentists and orthodontists who have completed the training and certification program provided through Invisalign. Without an Invisalign certification, you can only receive a similar product, but it won't be genuine Invisalign aligner trays.
If you're interested in the Invisalign trays, then call Tioga Dental & Orthodontics at to schedule an appointment. We can help you achieve the smile of your dreams, so call us today.
We look forward to speaking with you.