Posted under:
General
Posted on: June 27, 2017
20 Healthy Tailgating Snacks for Gators Games with the Family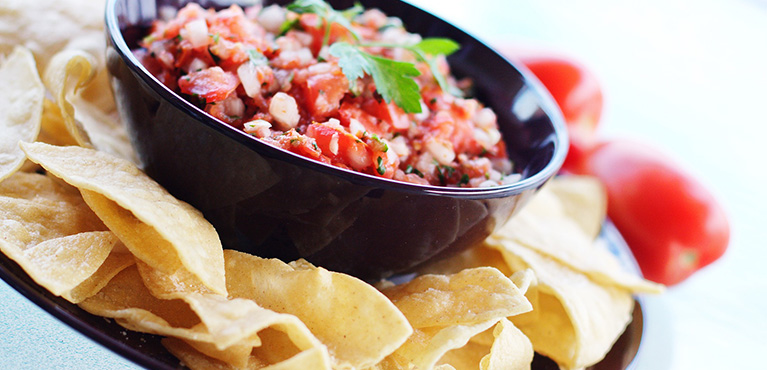 Sometimes football tailgates are planned months in advance; other times, they're a game time decision. And when you're in a hurry to throw a meal together, it's easy to opt for sugary treats, store-bought appetizers and pre-made dips. Junk food, which will only make your family tired and cranky halfway through the game, isn't the only choice. Instead, try some of these easy, tasty recipes that'll keep the gang energized and healthy.
Bite Sized Sandwiches
Kevin Duffey, founder and COO of Saturday Down South, says handheld sandwiches are a go-to for tailgates. In addition to being delicious, they're a great way to feed lots of hungry people at once. When choosing what kind of sandwiches to make for your family, remember to stay away from store bought sauces like ketchup and barbeque. As Catherine Saxelby of Foodwatch Australia points out, the average barbeque sauce contains 37 percent sugar. When you're spending hours munching on sandwiches laden with sugary sauces, you're not doing your teeth any favors. Another way to keep your sandwiches healthy is to cut them up into bite sized portions. Tanya Zuckerbrot, creator of the F-Factor diet, adds that tiny sandwiches can help you avoid overindulging on red meat. Zuckerbrot suggests topping slices of rye bread with extra-lean pastrami, low-fat swiss and sauerkraut. Then, these sandwiches can be cut into small sizes everyone can feel good about indulging in. You can also try your hand at recreating a bite-sized version of the famous chicken club sandwich from the W Hotel in Washington D.C. Topped with flavorful chicken breast, lettuce, avocado, a beefsteak tomato and a few fresh bacon slices, this flaky golden sandwich is sure to score high with your family.
Vegetarian Sandwiches
Want to ditch the meat? Load up on veggies and flavor with this roasted eggplant and pickled beet recipe rounded up by 52 Food editor and line cook Christina Chaey. The beet salad on this sandwich boasts herbs, scallions, feta and olives for a burst of flavor that'll make you glad you went veggie. For an quicker handheld veggie option, try this easy white bean salad from the Veggie Inspired blog. It takes just a few minutes to throw together white beans, diced cucumber, bell pepper, onions and parsley in a homemade dressing. Plus, the salad can easily be transported and spooned onto pitas at the game to prevent bread from going soggy.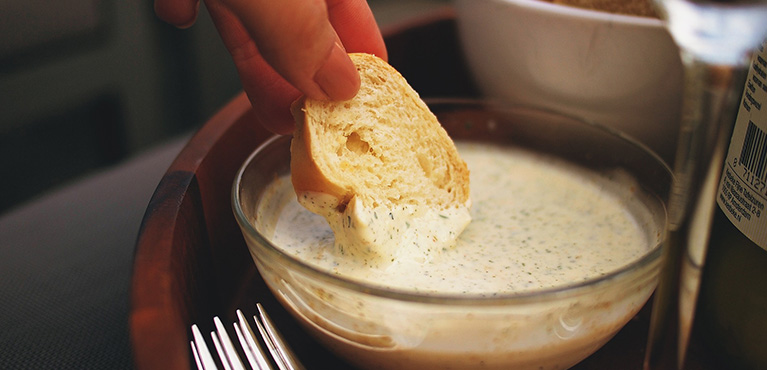 Lettuce Wraps
If you still want the benefits of a sandwich but you can't or don't want to eat bread, lettuce wraps are an easy alternative that everyone enjoys. Gluten Free with L.B. has a recipe for peanut asian chicken lettuce wraps, which are loaded with thai-inspired ingredients like roasted peanuts, green onions, soy sauce and rice wine vinegar. Thai wraps can easily be made vegetarian by swapping the chicken for tofu and extra veggies. Sarah Yates of A House in The Hills wraps her crispy grilled tofu, cucumbers, red bell peppers and carrots in fresh Napa cabbage, then pairs it with spicy peanut dipping sauce.
Slow Cooker and Crockpot Recipes
Most well-seasoned tailgating families won't leave the house without chili, salsa or at least tortilla chips on hand. To add a fresh and healthy spin to this tradition, try this crockpot mexican casserole recipe from Erin Clarke of Well Plated. If tacos are more your style, you can load up the slow cooker with a barbacoa beef recipe from The Roasted Root. After your beef stews in flavors from beef broth, adobo chiles and ground cumin, it's ready to be loaded onto corn or flour tortillas. Top the tacos with salsa and microgreens for quick, protein-packed tacos. Soup is another great tailgating meal, especially for late season games when the temperature starts to drop. If you're not ready to give up the rich, cheesy taste of traditional tailgating soups, you might enjoy a creamy kale, white bean and chicken soup. Food writer Briana Riddock says that in addition to being loaded with both vegetables and protein, this soup is ready in 30 minutes.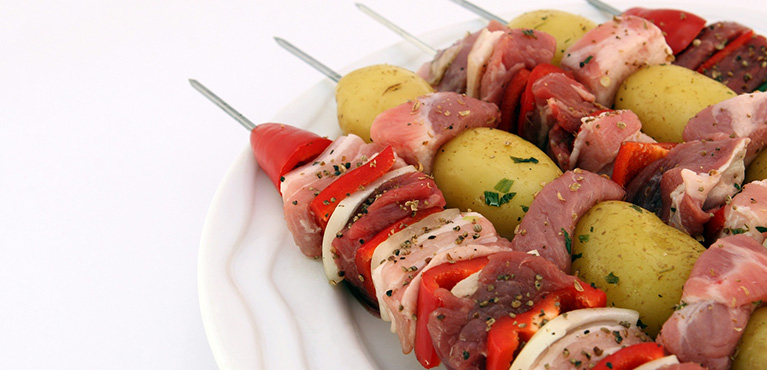 Appetizers
If your kids are keen on crackers and chips, they'll enjoy the crunch factor in these sundried tomato tuna bites from nutrition expert Amy Gorin. They're heart healthy, low in sugar and can be put together in a flash. Or, you can switch up classic tailgate snacks by loading them onto a skewer. Cyd Converse of The Sweetest Occasion stacks her skewers with olives, mozzarella balls, salami, artichoke hearts and tortellini for a mediterranean-inspired treat that's easy on your enamel.
Veggie-Friendly Apps
Loaded baked potatoes are a tailgating favorite, but they're also full of sour cream and cheese. To keep potatoes at the game without loading up on fat, try these veggie-friendly twice baked potato bites from Well Vegan. They require just five ingredients and their small size helps you keep portions under control. Another flavorful recipe that leaves out meat and dairy is eggplant balls. Registered dietitian Chelsey Amer of C it Nutritionally offers a version with eggplant, breadcrumbs and loads of spices. Whip this recipe up in the food processor and don't be afraid to double it for larger crowds. Even if your family is a bunch of raving carnivores, buffalo cauliflower is a good bet. They'll get an extra boost of vitamins without sacrificing that classic buffalo flavor everyone knows and loves. The Real Housemoms blog suggests baking bite-sized cauliflower that's been tossed in a flour, salt and pepper recipe before tossing it in a coat of buffalo hot sauce.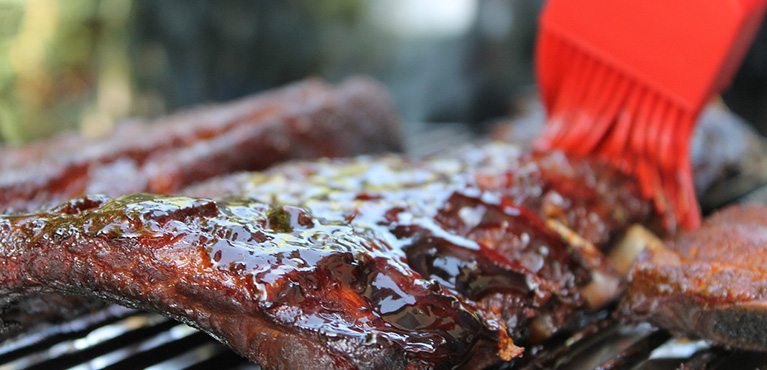 Dips and Spreads
Everyone can get on board with mexican seven layer dip. Former associate editor at POPSUGAR Lizzie Fuhr suggests lightening up the party favorite with a recipe that goes light on the cheese, ditches the refried beans and subs sour cream for greek yogurt. This recipe also swaps salsa for freshly diced tomatoes, which gets rid of excess sugar that sometimes hides in store-bought salsa. Another favorite that's easy to throw together is white bean dip. Lynn Andriani shares a salsa-like recipe complete with rosemary and chopped tomatoes.
Dressings
Some of the best dips are those that double as dressings and sandwich spreads. If this sounds like something your family would enjoy, look no further than this greek yogurt-based green goddess dip from Lee Hersh of Fit Foodie Finds. This dressing also boasts a few of nature's most powerful ingredients, including apple cider vinegar, lemon juice and cayenne pepper — all of which aid in digestion and cleansing. To make this snack ultra teeth-friendly, pair it with celery and carrots. Writer and editor Maura Kutner Walters explains that these veggies wash away food debris, helping whiten teeth, and also strengthen gums.   Images by: Michael Sylvester, Blog Teufel, Robert Owen-Wahl, Daria Nepriakhina

Call today or book an appointment online.