Posted under:
General
Posted on: July 25, 2017
Healthy Habits: 17 Gainesville Juice Bars, Tea Shops and Cafes You Should Know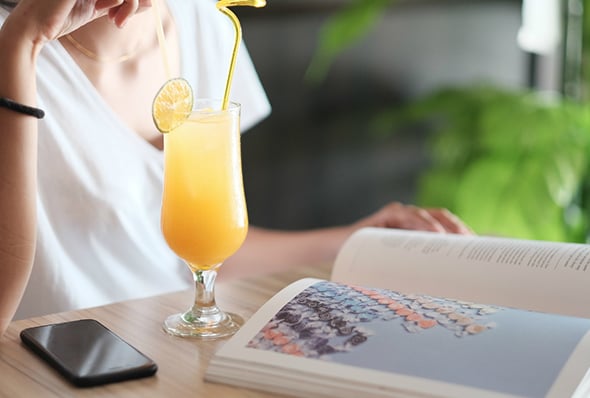 We as a country love our sugary drinks for a quick boost of energy. From colas to energy drinks to five-hour shots, the options are numerous — but the sugars in those drinks do no favors for the average person's teeth. Fortunately, there are alternative elixirs for the health-conscious who enjoy a boost of energy without the sugary rot. Here are 17 juice bars, cafes and other establishments around Gainesville serving up drinks that will nourish your body and keep your dentist happy.
Big Island Bowls
Big Island Bowls is known for its nutritious Acai bowls, but it prides itself on juices and smoothies, too, packed full of the kind of goodness loving parents would bestow on their kids. An extra bonus for the parents is the cocktail bar, replete with vibrant exotic fruits, serving up indulgences such as the Mango Margarita.
Chef Anthony Ambrosia
A former U.S. Navy chef, Chef Anthony Ambrosia knows what it means to keep the troops fighting fit. Born from necessity in 1993 — Chef Ambrosia struggled to drink commercially available juices due to their high chemical content — this extensive juice offering made from local Florida fruits is available at the Union Street Farmer's Market on Wednesdays and at the Haile Village Farmer's Market on Saturdays.
Daily Green
Who wants euphoria, shine and vitality every day? That's right, everyone does. With a variety of daily juices offering these states of being, as well as smoothies dubbed Dynamic, Uproar and Bliss, Daily Green offers tasty options with a supreme health kick. If you prefer your drinks in shot glasses instead, try the Wheatgrass, Power or Ginger shots. For the more particular patrons, there's the option to make your own concoctions, too.
Elixir Lounge and Juice Bar
Elixir Lounge and Juice Bar pumps its drinks full of homemade goodness. Artificial flavourings have been barred from its premises, with only 100 percent natural goodness channeled into its smoothies. It's worth visiting any day of the week, but if you like a smoothie-centric lifestyle, pop in on Monday for a discount day dedicated to sumptuous smoothies.
Harvest Thyme Cafe
Harvest Thyme Cafe buys all of its produce from locally owned businesses. Getting its fruit and vegetables from Rainbow Produce, only the freshest ingredients are used. The juices  contain fresh-cut fruit and blended ice, while the smoothies add some frozen yogurt to the mix.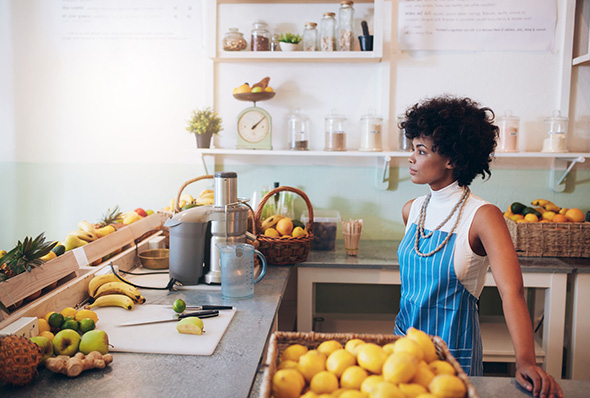 The Hyppo
OK, so this isn't a juice bar; it's more like a frozen juice bar. The Hyppo makes ice pops, which is sort of like really cold and hard juice. What makes it more fitting to be on this list is the commitment to all-natural, healthy ingredients. Using evaporated cane juice and fresh fruits, these icicles are not exactly sugar-free, but they're plenty better than a visit to the ice cream store.
Impulse Nutrition
Impulse Nutrition is a health food shop, juice and smoothie bar, and community center that offers bodies and minds a healthy nutritional option as well as a place to hang out. With events such as Doggos, Puppers and Protein Shakes, where visitors are encouraged to bring in their pets, community is a big focus in Impulse Nutritions's vision for staying healthy.
Jamba Juice
Jamba Juice has teamed up with dieticians, celebrities and communities to improve the nation's health. Living the brand, the juice bar provides healthy options for kids and adults with a range of fresh juices, smoothies and shots. Understanding that it can sometimes be difficult for people to pump their diet full of all the necessary goodness, Jamba Juice packs the health benefits into a single drink. The Veggie Vitality and Citrus Kick juices are just two of the liquid delights on offer, but there are superfood, protein and wholefood smoothie options, and energy-fueled shooters, too.
The J-Bar
These juices are so healthy you need to be inside a health and fitness club before you drink them (just in case you have to burn off the post-consumption energy in the weights section). The J-Bar at Gainesville Health & Fitness, with offerings such as the Lean Body Maker and Fat Blaster, has plenty of protein add-ons to boost those gains.
Kung Fu Tea
There is no promise that it will improve your martial arts, but Kung Fu Tea will defend you against attackers of your immune system. As the name suggests, tea — especially bubble — is its raison d'etre, but there is also a wonderful selection of juices and smoothies with names such as Mung Bean Slush and Passion Fruit Green Tea Punch. For something richer, try the Snow Cream range.
Planet Smoothie
Planet Smoothie's natural ingredients are lovingly packed into a powerful concoction high in flavour and full of vitamins. With a dedicated nutritional statement on its website, this is a planet of healthy goodness. Have a chuckle when tasting the Twig & Berries or make your own protein shake with Whey or vegan-friendly supplements.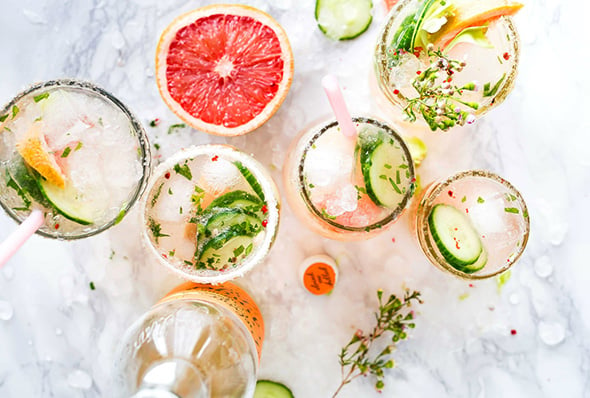 The Reggae Shack Cafe
The Reggae Shack Cafe is more for the hungry than the thirsty, with a wide choice of Jamaican cuisine. However, the cafe also makes some of the best smoothies in Gainesville and, they're made only from real fruit.
Smoothie King
The Smoothie King wants all in its kingdom to get their health buzz on. Offering an app-based incentive package, loyal drinkers can earn discounts and even freebies the more often they choose vitality-packed smoothies. Taking a fresh approach, Smoothie King has designed a tailor-made solution for its customers' needs. If you want to slim the waistline, build muscle, boost your immune system or just chill out from your busy day, then ask and the King shall deliver.
3Natives
3Natives packs a nutritious punch in its food and drinks, and has a knack for naming them, too. With the Chuck Norris or Herbivore smoothies, filled with organic wholefood ingredients, or the Twisted Ginger or Slim 'n Spicy cold-pressed juices and shots, this is the juice bar for energetic who don't taint their bodies or coat their gnashers with sugar. Even the homemade protein is free of sugar and preservatives. Oh, by the way, 3Natives also uses local honey, offers eco-friendly cutlery and supports Brazilian farmers with 100 percent organic and Fair-Trade Acai.
Tropical Smoothie Cafe
Tropical Smoothie Cafe knows that eating and drinking better makes you feel better. What you put in is what you get out. Of course, there are classic smoothies for the purists to order, but the adventurous can choose superfood smoothies with ingredients such as kale, avocado, celery, Acai and Goji berries — not in the same drink — or supercharged options such as Peanut Paradise, Health Nut and Muscle Blaster.
The Vale Food Company
This is another of those not-really-a-juice-bar entry, but included on the list because of the high-quality and healthy produce. The Vale Food Company is a store that stocks Vale's name-brand detox water, at least three brands of kombucha, as well as Izze Natural Soda. Priding itself on healthy products, consumers can drink and be merry without worrying about hidden sugars and sore teeth.
Yo3 Metro
Yo3 Metro has the decor of a place reminiscent of childhood comfort. Purples and blues house the tasty ingredients ready for consumption. It's frozen yogurt and smoothies are free from eggs, artificial flavorings, colorings, sweeteners and preservatives, as well low-fat and non-fat options. Your tummy and teeth thank you!   Images by: Hanny Naibaho, ammentorp/©123RF Stock Photo, Brooke Lark

Call today or book an appointment online.