Posted under:
General
Posted on: July 18, 2017
How to Eat Healthy at Disney World: 25 Tips from Magic Kingdom Insiders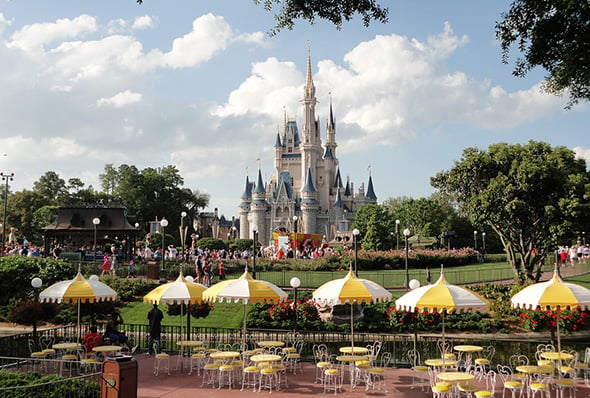 Disney World is the ultimate indulgence and escape: fun theme park rides, photographs with well-loved Disney characters and lots of fantastic experiences for the entire family. For many — kids and adults alike — Disney World is a place of magic. It's also a place full of tempting sweets, drinks and meal choices that are bad for your teeth. But don't worry: You can still enjoy the Magic Kingdom without having to fall back on unhealthy dietary options. Healthy eating at Disney is not as daunting as it may seem. Here are our top 25 tips for making healthy choices at Disney World.
Bring Your Own Food
To make healthier food choices, Tamara Mannelly from Oh Lardy believes in packing her food for her family's trips to Disney. In this post, she shares her list of what she packs for snacks and meals and recommends bringing your own small cooler (carry-on size) for your packed perishables and frozen foods. For additional necessities when you're already onsite at the Disney resort, Tamara recommends grocery delivery to get fresh food items. Garden Grocer is a service that delivers to Disney. If your accommodation includes a kitchen or kitchenette, this is an excellent option for eating healthy at Disney. While it does take some effort and meal planning, preparing your own food, even for one meal, can be cheaper and healthier.
Eat Smaller Portions
The Disney Food Blog suggests opting for smaller portions: "Disney likes to give you your money's worth when it comes to food, so be aware when you order. Make a meal out of an appetizer, and when you splurge on a rich entree or huge dessert, share with someone else at the table."
Find the Mickey Check
Disney has devised a recommendation system for healthy choices in their eating establishments. All you have to do is look out for menu items with a Mickey Check, which indicates that it meets Disney's nutrition guide requirements. That makes it a breeze to select food that's healthier for you and your family.
Make Requests in Advance for Special Dietary Needs
Disney's Guest Services takes special dietary requests. If you have any food allergies or would like to request kosher or halal meals, you can indicate your preferences by requesting in advance.
Check Out Anaheim Produce
Eat This, Not That!  says Anaheim Produce at Disney's Hollywood Studios on Sunset Boulevard is "an easy grab-and-go quick service restaurant that offers a variety of fruits and veggies." What better way to eat healthy than to eat fresh?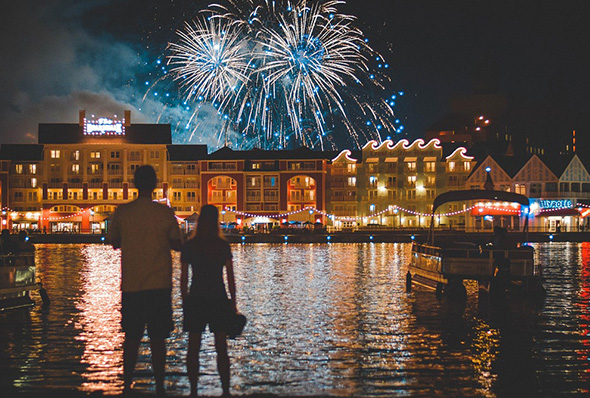 Find the Allergy Kiosk
You'll want to check out The Allergy Kiosk, whether or not you have food allergies. The kiosk is home to gluten-free snacks, and the cast members can provide information on healthy dining options in the Disney resort.
Get a Deconstructed Meal
Adam Bryan, who blogs at Urban Tastebud Disney, has a handy tip: "When ordering a tossed salad at quick service locations, they'll tend to come already pre-mixed with dressing. Just be sure to order the dressing on the sides. You can even ask for cheese and croutons on the side as well."
Start the Day with a Healthy Breakfast
Are you looking for an upscale eating experience at Disney? Robin Hutson from Luxe Recess highly recommends the Garden Grove breakfast buffet at the Walt Disney World Swan Hotel. The restaurant offers a character experience on certain days, but according to Robin, "the most impressive feature was the fresh fruit and vegetable smoothie bar that was included in the buffet price. Additionally, a nuts and seeds bar offered chia seeds, flax seeds, and a variety of other ways to boost smoothies and oatmeal." Yum!
Select Vegetarian Options
An easy option to eat more healthily at Disney is to go vegetarian. If you're up for a real vegetarian challenge, check out this awesome list of 100 Disney Vegetarian Foods To Eat Before You Die by Chip & Company. The list provides vegetarian choices in each of the parks, so there's every opportunity to eat healthy. It's got everything from veggie burritos at Tortuga Tavern to vegetable lo mein at Yak and Yeti to hand-rolled potato gnocchi at Mama Melrose's Ristorante.
Bring a Water Bottle
With so much to see and do, plus the warm weather in Florida, it's important to stay hydrated during your Disney adventure. Here's a pro tip from Tammy Kresge of Organize Yourself Skinny: bring your own water bottle. "Water at Disney will run you $2.50 a bottle," she says. "That can add up very quickly for a family of 4 spending 6-10 hours a day at the Magic Kingdom. With a bottle that filters water you can just fill it up at any water fountain and you are good to go." Bringing your own water bottle will also reduce the temptation to indulge in sugary drinks, which add up in calories and can wreak havoc with teeth.
Do Some Restaurant Research
Many of the restaurants at Disney provide unique experiences and are fully booked months in advance. It's worth taking the time to do your research on their menu and food offerings, and then decide which are the best options for you and your family. Annemarie at Real Food Real Deals has put together a review of some of the restaurants she visited during her family's Disney trip, and she focuses on healthy options that are available in the resort.
Go Around The World at Epcot
One of the best places to find healthy options is The World Showcase at Epcot, which has a wealth of food from (you guessed it!) around the world. ThemeParkTourist has this great suggestion: "Try starting in Mexico with some fresh guacamole at La Cantina de San Angel, then have a ham and apple sandwich on multigrain bread at Norway's Kringla Bakeri Og Kafe. Have a hot beverage at Joy of Tea in China, then maybe try some traditional cold potato salad with eggs at Germany's Sommerfest."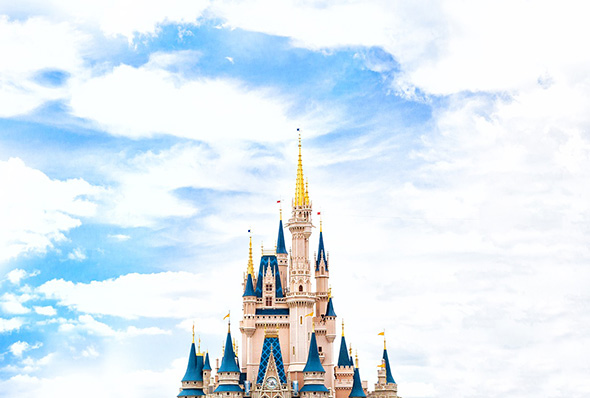 Sharing is Caring
Renée Durand at Disney by Age recommends eating family-style and sharing your meals: "MANY items are big enough for two, so consider sharing to shrink your waistline and fatten your wallet! When we last went, my daughter and I shared almost every meal since she was too young for the dining plan. Neither of us went hungry. By far the opposite."
Visit the Liberty Square Market
Instead of indulging in sweet treats, try the Liberty Square Market to get healthy snack options. Here, you'll find fruits and vegetables, plus the market's fresh-roasted corn, a favorite of many Disney regulars.
Go For Seafood
Generally speaking, seafood is a healthier option than meat. Rikkin at The Mouse For Less has five recommendations for the best places on-site to find seafood. You'll see clam bakes, seafood scampi, lobster roll and raw oysters on offer, along with lots of fresh fish.
Try The Garden Grill
Located in Epcot, the Garden Grill offers tons of nutritious choices. Its menu is full of sustainable food items, and many of the vegetables are grown in greenhouses on the site. Vanda Bean at Walt Express wrote a review of her breakfast experience at the restaurant, and explains why it's now her family's first stop at Epcot.
Swap Out Unhealthy Items
Disney cast members are happy to accommodate when they can, and they certainly do when it comes to swapping food items. To eat healthy at Disney, simply request to swap out unhealthy items for healthier options. Instead of fries, ask for sweet potato. Request that your sweet dessert to be changed to fruit. Turn down that sugary beverage in favor of water. Eating healthy starts with small changes!
Eat On the Go
With so much ground to cover in the Disney resorts, you can save time (and calories) by having healthy snacks while on the go. Food writer Pam Brandon, who writes for the Disney Parks blog, has her faves: "the fresh pineapple spear at Aloha Isle; hummus and chips from Gaston's Tavern; or an apple or banana from Prince Eric's Village Market."
Have a Light Lunch
Instead of a lavish, heavy lunch, opt for a light lunch from the many quick-service options in the Disney parks. Arthur Levine at TripSavvy has put together a list of the best quick-service restaurants. Among his picks are Flame Tree Barbeque, Columbia Harbor House and Tangierine Cafe.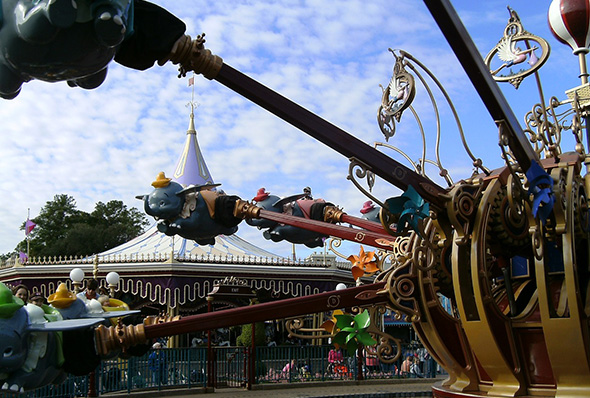 Customize Your Sandwich
If you're in Epcot, check out the Sunshine Season Food Fair. This food court gives you the option of building your own sandwich or salad from scratch. Load it up with healthy greens, and skip the dressing for a healthy meal.
Go for Sugar-Free Desserts
For those watching their sugar intakes, good news: Disney offers sugar-free desserts. Most of the table-service restaurants offer this healthier option, so that you can have that treat without any guilt.
Resist Temptation When it Comes to On-Site Food Choices
If you're staying within the Disney resort, chances are you'll have access to a grab-and-go area during your stay. These areas incorporate healthy food options such as yoghurt, cereal and fruit. These are great for breakfast, or you can take them with you so you can snack throughout the day.
Skip the Fried Food
One way to make better food decisions is to simply skip the fried stuff. Fried chicken? Fries? Fish and chips? Choose barbeque chicken, steamed vegetables and grilled fish instead. If you and your family are fairly adventurous about food, check out Restaurant Marrakesh. Tom Bricker explains why it's his favourite Epcot restaurant in his review on Disney Tourist Blog, with special mention being given the brewat roll and chicken bastilla.
Eat at Cinderella's Royal Table
Aside from indulging your child's princess dreams, there's another reason to eat at Cinderella's Royal Table: Her Majesty's catch of the day is a fish dish. They also offer vegetarian options. Read Jennifer Retzlaff's review of her family's dining experience in the restaurant. She says "[t]he service, food and atmosphere is everything that we hoped it would be when making our reservations."
Have a Cheat Meal
Being too strict about your food options can be stressful, so allow yourself some room for food fun. If there's a special treat at Disney you're really looking forward to, let yourself enjoy it. After all, you are on vacation. Indulging in one sumptuous cheat meal can be the cherry that tops off your Disney adventure! If you need some inspiration, Travel + Leisure's list of 60 Foods Everyone Should Try at Least Once When Visiting Disney World is a fantastic resource.   Images by: rgrivas10, skeeze, Pexels, Grandpa Steve

Call today or book an appointment online.