Dental Implants or Dentures: The Better Option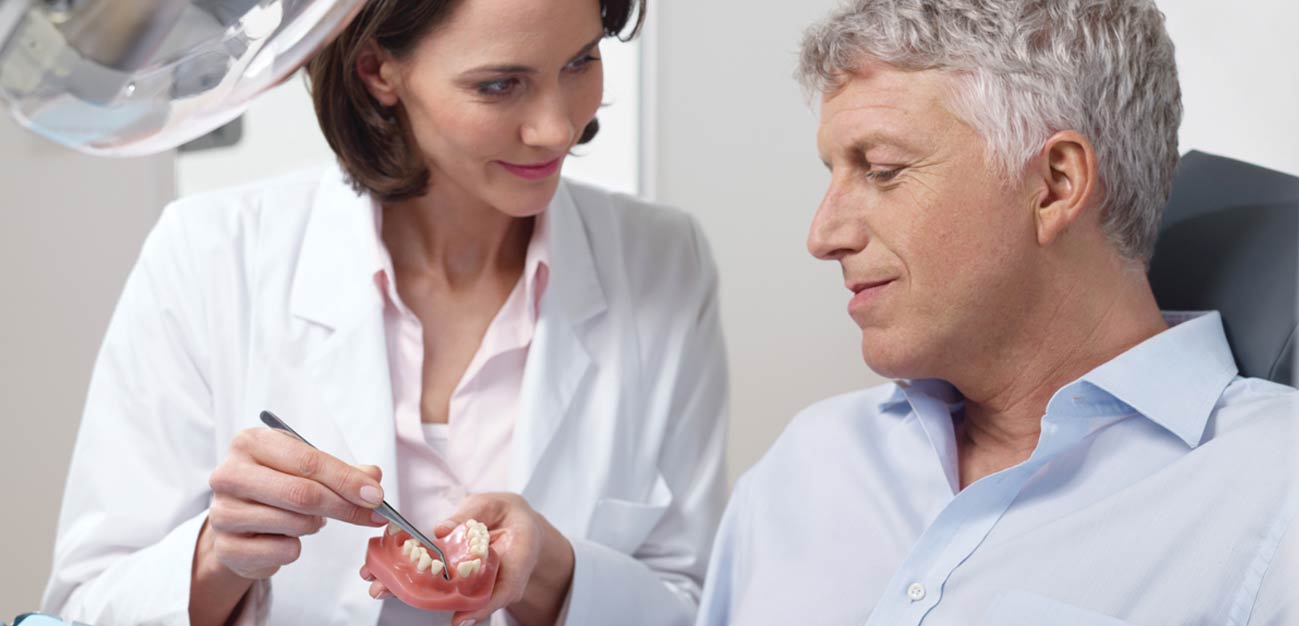 People lose their teeth for a number of different reasons.You can lose one due to gum or periodontal disease, cavities or tooth decay, or even because of direct trauma to them. It is such a common occurrence that according to the statistics provided by the American Association of Oral and Maxillo facial Surgeons,70 percent of all adults between the ages of 35 to 44 years have lost at least one tooth.  However, the frequency of missing teeth in no way belies the significance of the psychological impact the loss of a tooth has on an individual. Keeping that in mind, there have been revolutionary dental advances, presenting a number of different teeth replacement options. The top two of which include Dental Implants or Dentures.
Dental Implants are artificial tooth roots with a cap or crown screwed up top that act as a permanent replacement for a missing tooth. Dentures on the other hand are false teeth set in a tray of different material that is worn by the patient, fitting into the gap created by the missing teeth.
To help you decide between the two, here are the pros as well as the cons of both, dental implants and dentures as teeth replacement options.
Dental Implant Pros
It is a more stable and long-lasting option, where the titanium screw mimics the function of a natural tooth root, posing no risk of dislodging or movement.
Implants are more closely comparable to real teeth, aesthetically speaking.
The ability to speak, or chew is completely restored and unaffected with the use of dental implants
Once implanted, the teeth require considerably less maintenance and care.
They incorporate seamlessly with your regular routine of oral hygiene and care.
Pose no risk of cavities or decay.
Implants are better at preserving your natural jaw bone.
Dental Implant Cons
The process of implanting the replacement tooth is considerably time consuming
The costs of dental implants are much higher as compared to other alternatives
Implants are unsuitable for patients suffering from bruxism (grinding of teeth)
Denture Pros
Dentures are the quickest teeth replacement option available to any person. A denture can be made and fitted the same day as that of an extraction.
It is more economically favorable a procedure.
The denture is well suited to those who have weak facial muscles or jaws as well as those with unsuitable conditions of the oral mucosa.
Denture Cons
They are considerably susceptible to moving
Can cause discomfort during the acclimatization period.
Require a more extensive maintenance and care and cleaning process than natural teeth.
Dentures do nothing to help prevent or delay further decay and deterioration of natural teeth.
They require frequent readjustments and replacements depending on the changes that take place within the jaw.
Along with a personal choice, there are various factors that help distinguish and determine between two teeth replacement alternatives. To weigh all your options, opt for a thorough consultation and examination conducted by your dentist. Call today or book an appointment online.